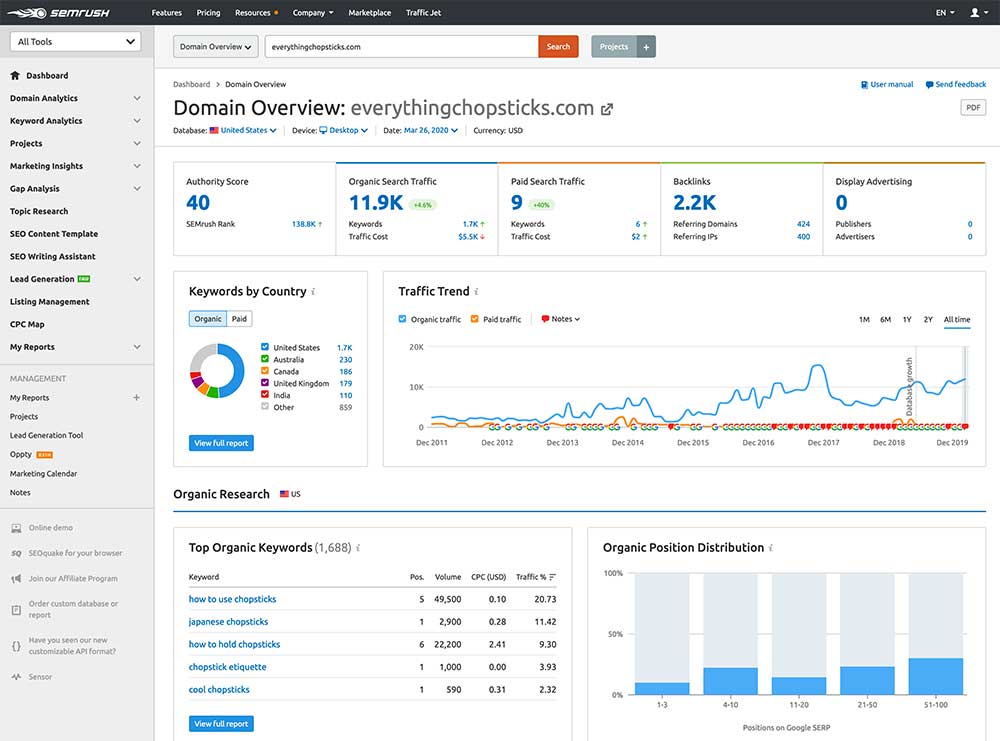 If you are avidly involved in doing search engine optimization for your or client websites, you will find using SEO software will greatly speed up and enhance your work. We use these crucial SEO tools daily in our work and find them invaluable in making good, sound content decisions.
One of the main benefits of the best SEO software is project management. For each project you have a wonderful array of tools for research, analysis, management and reporting. So let's explore what to look for.
Keyword Tools
Every provider has a keyword tool to help you analyze and select the right keywords for your topic or page. Data accuracy can be an issue as only the search engines themselves have the true numbers. A good keyword research tool will give you information on search volume, ranking difficulty, search trend, cost per click and size of competition. We find being able to store and export relevant targeted keyword lists invaluable.
Domain Tools
These utilities let you analyze the current status and historical performance of any website, including competitors. Basic features include site audit reports for organic search, paid search traffic and backlink analysis, as well as top keyword rank tracking and geographical performance. These reports will help you see areas for improvement.
Project Management Tools
Project management utilities allow you to track important data such as keyword position, backlinks and maybe social media relevant to a specific project website which could be your own or a client. Better tools will also encompass auditing the project site for technical errors, suggest fixes, check content, aid in social media posting, monitoring the brand, build links and manage pay per click advertising.
Competition Research
Some tools provide handy resources for comparing your client site with competitor websites. These utilities can assist in seeing where you have gaps in keyword rankings or coverage, as well as where competitors have backlinks, which give insights for link building for your client.
Content Research
For those involved in creating great SEO friendly content some SEO software provides handy features for researching topics and keywords, top competitors for specific keywords, and suggesting the amount of text, keyword density, complexity of writing, and more. Each SEO software provider has their own algorithm and therefore suggestions on what will make a great content page, so we like using a few tools and "averaging" the results.
Help Resources
All the better SEO Tool providers have substantial help resources to help expand your knowledge of search engine optimization and all the skills related to website search performance. They keep you up to date on changes and help you formulate better strategies. We especially like viewing live webinars where you can pose questions directly to the webinar SEO experts. Don't underestimate the value of good help resources.
Our Recommendations: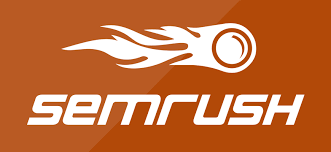 The SEMRush SEO platform has the most complete set of analysis tools of any software we've seen. The tools, while quite numerous, are fairly easy to use, are relatively accurate, and provide just about every feature one could want. Their keyword and keyword list tools are perhaps the best in the industry.
The help resources are very good and they are continually adding new features and utilities. This is our top choice and the one we prefer to use every day to manage our client projects. Highly recommended.
Explore tracking your organic performance 24/7 with the Position Tracking tool by SEMrush
---

This company is well regarded in the industry as one of quality. While they have a very good toolset, it is not as robust as SEMRush. While their keyword research tools are not as robust as SEMRush or Moz Pro, it has solid utilities for monitoring search position, domain crawling and analysis. The interface is a little outdated but their features are fairly accurate and are a good choice for professional users.
Check out ahrefs features.
---

Moz is the hipster company from the Pacific Northwest. We like their clean look, capable yet simple features, and being Oregonians ourselves we dig their style. The data they provide is fairly accurate.
Their shortcoming is a lack of a complete set of features. When we use it we always wish there was a bit more there. However, it is still an excellent choice and can provide the solid basics that you need.
Examine the great set of SEO tools at Moz.
---

SpyFu offers quite a bit for a lot less. It has solid keyword research and competitor analysis, pay per click research and backlink checking. Where it falls short is in content creation and checking. For those on a budget, SpyFu is a good choice.
See all that SpyFu has to offer.
---
Google's Free Tools
Google provides several indispensable utilities for SEO. Even if you use a robust for-pay SEO tools package such as SEMRush or Moz Pro, you will still find these tools useful.
We spend a lot of time in GSC. This provides performance information about how a site has performed over time, allowing date comparisons and granular drill-down. It also adds URL inspection, error reporting, sitemap specification, site speed, mobile usability and review snippets audit.
Analytics is website analyzing on steroids. It allows an amazing array of browsing stats on audience demographics and behavior, audience acquisition, audience behavior and conversions. It is complex and a bit difficult to setup properly, but can provide insights not found anywhere else.
PageSpeed is the authority on measuring a URL's speed matched up to Google's important technical parameters collected from Google Lighthouse, along with feedback on how to improve technical issues.
The Keyword Planner tool is part of Google Ads and yet separate. The data is oriented around advertisers showing bid rates and impression shares. However, it shows average monthly searches and search trends which is quite helpful.
---
Some Free SEO Tools We Like
While there are numerous free SEO tools, they are limited to only a few specific areas such as page speed, content checking and keyword research. In our experience the quality of these free tools is usually not very good, giving you poor results. Here are a few that might be of benefit to you:
A website analyzer to find broken links, review page titles and meta descriptions, audit redirects and duplicate content. Audit 500 URLs for free, more with a paid subscription.
Moz provides their very good Keyword Explorer tool for free, limited to a few searches a month. The tool provides keyword volume, difficulty and click through rate estimates. It also provides related keyword suggestions and SERP analysis (who's ranking for the keyword).
This lite version of their full featured tool provides a domain backlink rating, number of backlinks and referring domains, and shows the top 100 backlinks, top 5 anchors and top 5 pages. If you want to see more or dive more deeply into the results you can pay to play.
Another handy, free backlink checking tool with some excellent features. It lets you view the top 50 backlinks, top 10 anchors and top 10 pages, along with other helpful stats such as domain authority, referring domains and backlinks.
Perhaps the gem of free tools is SmallSEOTools, a vast collection of small, yet handy, powerful utilities. There are currently 176 tools in all covering topics such as text, content, keywords, image editing, backlinks, website, tracking, proxy, domain, meta tags, passwords, PDF, developer, unit conversion, and binary converters. Each tools does one small thing but it's like having a little Swiss army knife of SEO tools at your fingertips.
This nice utility will return important results of 14 vital URL checks such as Googlebot access, mobile compatibility, security, accessibility, page speed, sitemaps and more. Each topic can be further analyzed to more granular, specific issues along with help pages to explain the results and how to fix.
---
We sometimes link to services that may earn us a small commission, but at no extra cost to you, if you choose to make a purchase. As always, we appreciate your patronage.